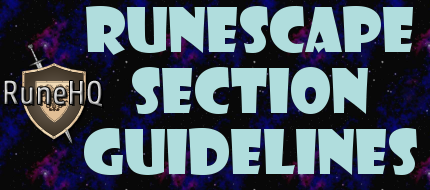 In addition to the forum rules, the RuneScape Category has the following rules.
General RuneScape Category Rules
Do not post anything that can lead to fights between free to play vs. members. Members pay for the game and will always have more benefits.
Do not post about famous players, unless a major event happens relating to them.
Do not make new topics about bots, we have an official topic for it. We all know that they are against Jagex rules, and we all know there are a lot of them in game.
RuneScape Suggestions Forum
Make sure your suggestion is not in the Forbidden Suggestions topic.
Do not make petition lists. The point in the forum is to tell what you would like to be added to the game, not create a list of people who support it.
Do not ask for an update to be removed from the game. Jagex spent their time working on an update, they are not going to remove it at player request.
RuneScape Videos
All downloadable videos must be 20MB or less. All streaming (non-downloadable) videos must be 15 minutes or less.
Posting anything Adult themed may result in banning of your account.
RuneScape Help Boards
Bank and stat rating topics are not allowed. They often lead to flaming and can possibly lead to less honest members trying to hack your account.
RuneScape Announcements
Keep all announcements RuneScape related. If your announcement is not RuneScape related, post in the correct General Category board.
Do not make topics about almost reaching goals. The exception to this rule is by posting in the General Logs forum.
Do not make arrogant posts when you reach a goal. This includes typing in huge letters, or calling yourself a noob even though you just achieved something.
When you post an achievement, try to add a picture. It makes the topic look better and gives proof of the achievement. Remember: no pic, no proof!
Official Topics in the RuneScape Category
Also, be sure to check out our regularly posted Member submitted poll topics and feel free to send in a PM your possible suggestions to one of the members listed below!
Questions? Comments?
If you have any questions regarding these rules, please contact one of the forum moderators or forum managers.
Thank you for your cooperation,
RuneHQ Staff